Retrouvez, sur cette page, les lecteurs et organismes qui parlent de Forestopic et qui nous recommandent.
FORESTOPIC, un « média dynamique et très utile à la filière »,
selon Stéphane Le Foll, député de la Sarthe, ministre de la Forêt de 2012 à 2017.
Découvrez des témoignages d'abonnés à Forestopic en vidéo.

Selon Jonathan Lenglet, ingénieur des Ponts, des Eaux et des Forêts, spécialisé sur les ressources forestières et la filière bois, Forestopic est une :
« belle source d'info enfin centralisée pour la forêt et la filière ».
Je découvre le nouveau site https://t.co/F6kseL8uJo Belle source d'info enfin centralisée pour la #forêt et la #filière. Merci @Forestopic !

— Jonathan Lenglet (@JohnLenglet) 20 avril 2016
Forestopic remercie chaleureusement tous ceux qui nous ont adressé des messages de sympathie, et notamment à l'occasion de notre premier anniversaire.
Bon anniversaire @Forestopic de la part de l'enseignement sup et de la recherche forestière @PF_ForetBois @Inra_Nancy @APT_Nancy https://t.co/ePV3CSeiGL

— Meriem Fournier (@FournierMeriem) 20 avril 2017
Joyeux anniversaire à l'incontournable site d'information forestier : @Forestopic ! Que cette histoire dure longtemps... ⯑⯑⯑⯑ https://t.co/rh8bHlvKmd

— Loïc Brodut (@BForetGestion) 15 avril 2017
Un media spécialisé qui s'impose pas à pas...félicitations! https://t.co/2CP6FvMHpn

— PF Forêt-Bois (@PF_ForetBois) 16 avril 2017
Loïc Zellvegre, gestionnaire forestier indépendant, coordinateur de Sylvaligne IDF (AMI Dynamic Bois 2016), nous écrit :
« Les articles traitent de sujets autour de la forêt et du bois et je ne trouve pas de média à la hauteur de ce que propose Forestopic. Je lis souvent avec attention vos articles et n'hésite pas à en parler aux professionnels autour de moi. Bravo pour ce que vous faites. »
Le Comité national pour le développement du bois (CNDB) vous invite à découvrir Forestopic.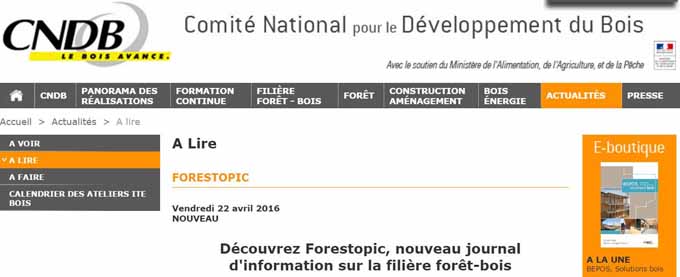 Voir aussi les messages publiés par le CNDB sur : Twitter, Facebook, Linkedin.
Verteego recommande Forestopic. Selon l'éditeur d'applications logicielles pour le développement durable et la performance extra-financière des entreprises et des territoires, Forestopic est :
« le nouveau webzine consacré à la forêt et à l'écosystème forestier ».
Voici Forestopic, le nouveau webzine consacré à la forêt et à l'écosystème forestier : https://t.co/RlsKASXcj4 Une initiative de @ChrystlC

— verteego (@verteego_FR) 2 mai 2016
Verteego signale aussi la version anglaise de Forestopic, présentée sur notre site à titre de démonstration.
Here's Forestopic, founded by @ChrystlC a new online media dedicated to forests and wood: https://t.co/WW2Ma96HhP Highly recommended!

— Verteego (@Verteego_EN) 2 mai 2016
L'association Compagnons des Cimes trouve les articles de Forestopic « passionnants ».
bravo @Forestopic pour vos articles passionnants!! https://t.co/elWKqyAzZo

— Compagnonsdescimes (@cdescimes) 23 juin 2016
Arnaud Queyrel, ingénieur agricole et entrepreneur social « environnement », actionne le bouche-à-oreille pour Forestopic.
@Forestopic bjr, bravo pr #Forestopic ! Je viens d'en informer 1 ami, militant des arbres : https://t.co/Nn52upTPKu pic.twitter.com/lE8ygDAjdc

— Arnaud Queyrel (@AQueyrel) 25 avril 2016
Paroles de Planteurs vous invite à suivre Forestopic.